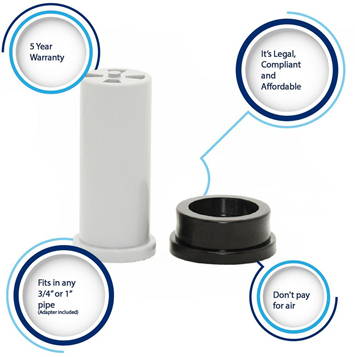 WATERGATER
Guarenteed to save you money!!!
Installing the WATERGATER on your side of the water meter will create a compression zone, extending up to 200 feet back onto the city/utility side. This compression zone prevents turbulence, in the form of air and water vapor bubbles, from passing your water meter and being measured as metered water flow.
The net result is up to 40% reduction in your metered consumption, which also reflects on your sewage, as your sewage is calculated from your water consumption.
- For pipes 3/4" to 1" (1" adaptor included)
- Suitable for PSI above 40
- Grey PVC
- NSF/ANSI 61 accrediated materials
- Installs in 30 minutes (see video below)